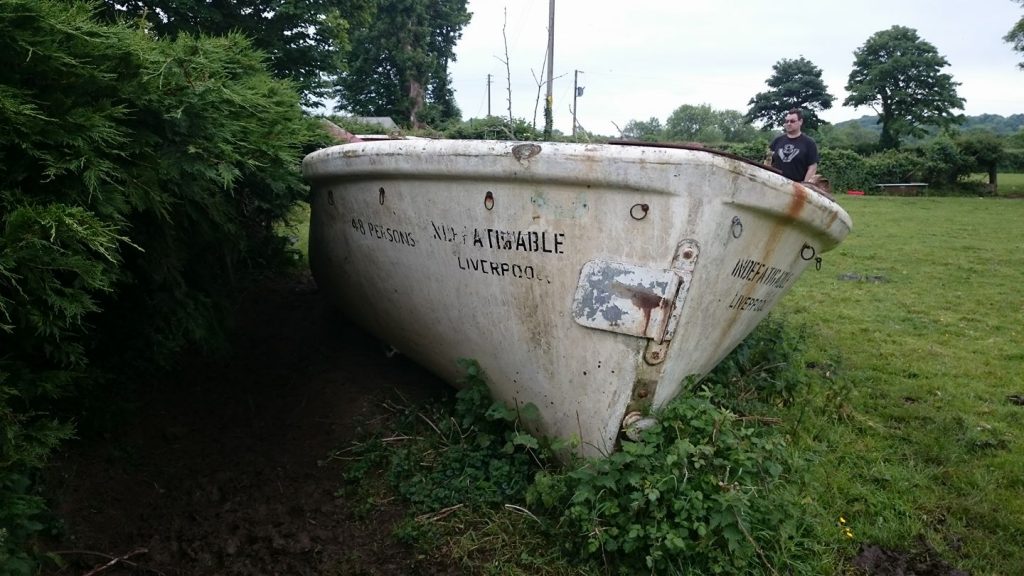 Indefatigable fibreglass LIFEBOAT: Photo Diary
May 2017 – the old fibreglass Indefatigable Lifeboat was found on Anglesey by Indefatigable Old Boy 'Phillip Masterson 90/93 (P.O. of Hood division)', on which he became the owner of.
She's in a bad way but everything is repairable.
July 2018 – with Phil losing his workshop and base by the end of August, A NEW OWNER HAS TO BE FOUND, this has to include storage for the boat. Phil doesn't want anything for the boat and said he's willing to help the new owner with repairs if kept locally to Anglesey. There's no trailer with it, but Phil is willing to lend one if that helps.
IOBA STATEMENT 2018 – from a historical point-of-view, it's full of memories and dare we say that's all. From an association (IOBA) point of view, we can't commit to full ownership as this requires a lot of TLC and a permanent base for storage, but I'm sure with 'membership agreement' the IOBA will be willing to part sponsor.
April 2019 – the IOBA asked JSMTC about storage of the Lifeboat down at the old boathouse area, but the Nuffield Trust regret that they didn't have the space for storage or referbishment of the Lifeboat (Nuffield are the owners of the Sailing Area not JSMTC).
February 2020 – Inde Lifeboat. (Someone needs to take charge of it).

Indefatigable Old Boy Glen Cricket 84/85 – 'After taking on the responsibility of our old school lifeboat, it was my plan to eventually transport it to my home in Portugal and restore it.
After the field it was being stored in on Anglesey is due to be developed, I needed to act quickly. So I organised an international trailer to pick it up to transport it to Portugal at a cost of 2100 GBP.
It was then discovered, a different kind of trailer was needed as rules
on wide loads are different in Continental Europe. It would have needed a more expensive trailer plus a "wide load" convoy car to accompany the transport all the way to Portugal.
I now need someone to take on ownership and safekeeping of the boat as soon as possible. The boat is currently stored on Anglesey, not far from the old school.
If nobody can help take it away, the boat will sadly become property of the owner of the field. (who will likely just bulldoze it and bury it).
Dimensions: L 24.4ft x W 8.10ft x D 5ft and the weight is around 1.5 Ton. it is GRP.'
Please contact (Facebook link): Glen Cricket