HRH Prince Philip, Duke of Edinburgh KG KT OM GBE
Principal Patron 1964 of the INDEFATIGABLE AND NATIONAL SEA TRAINING SCHOOL.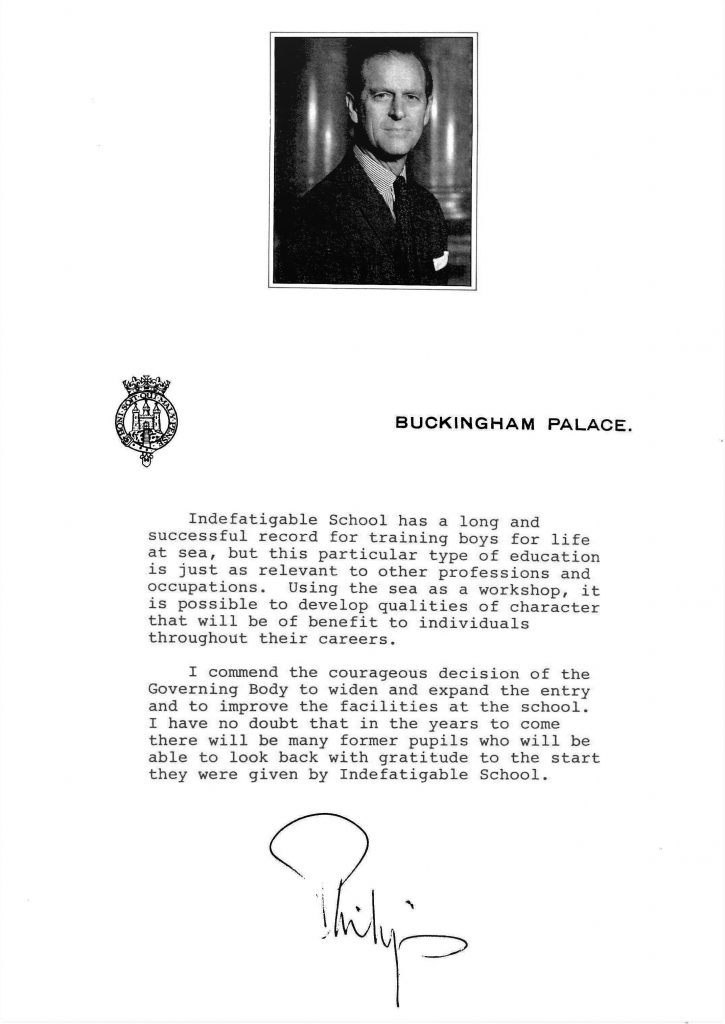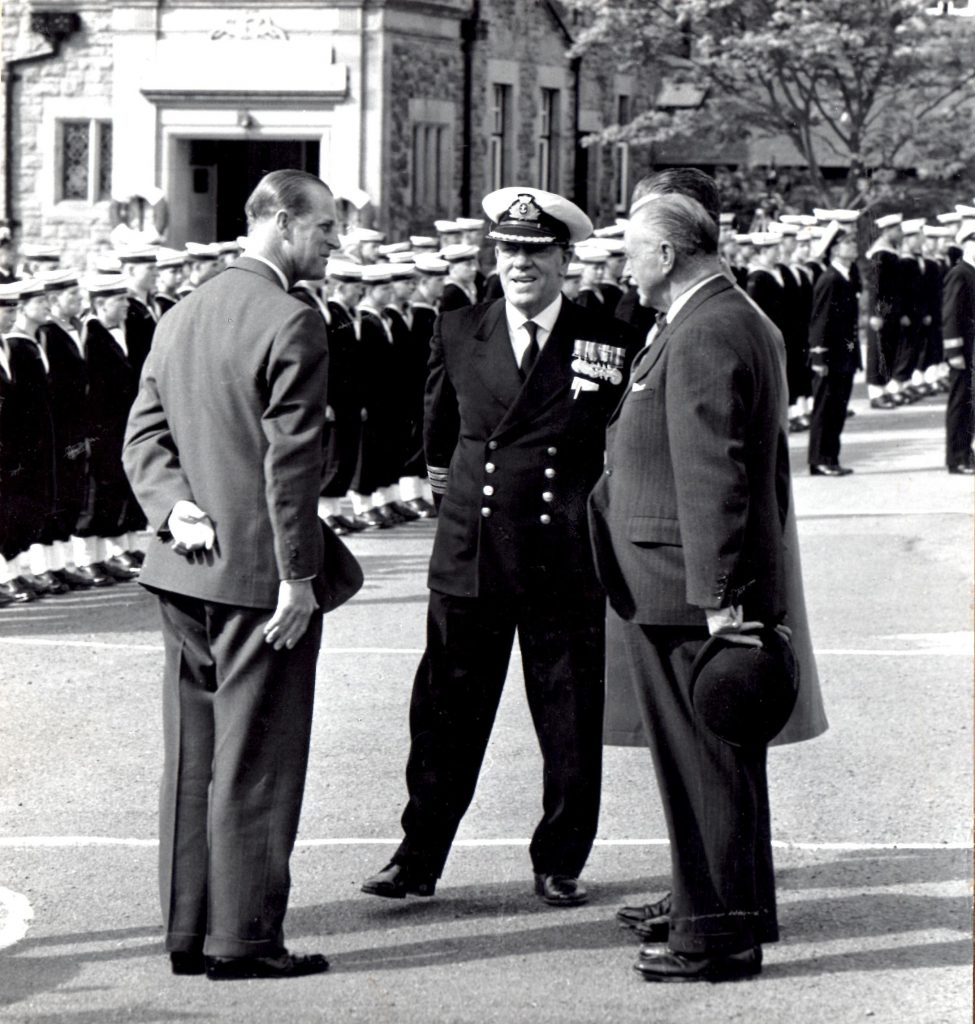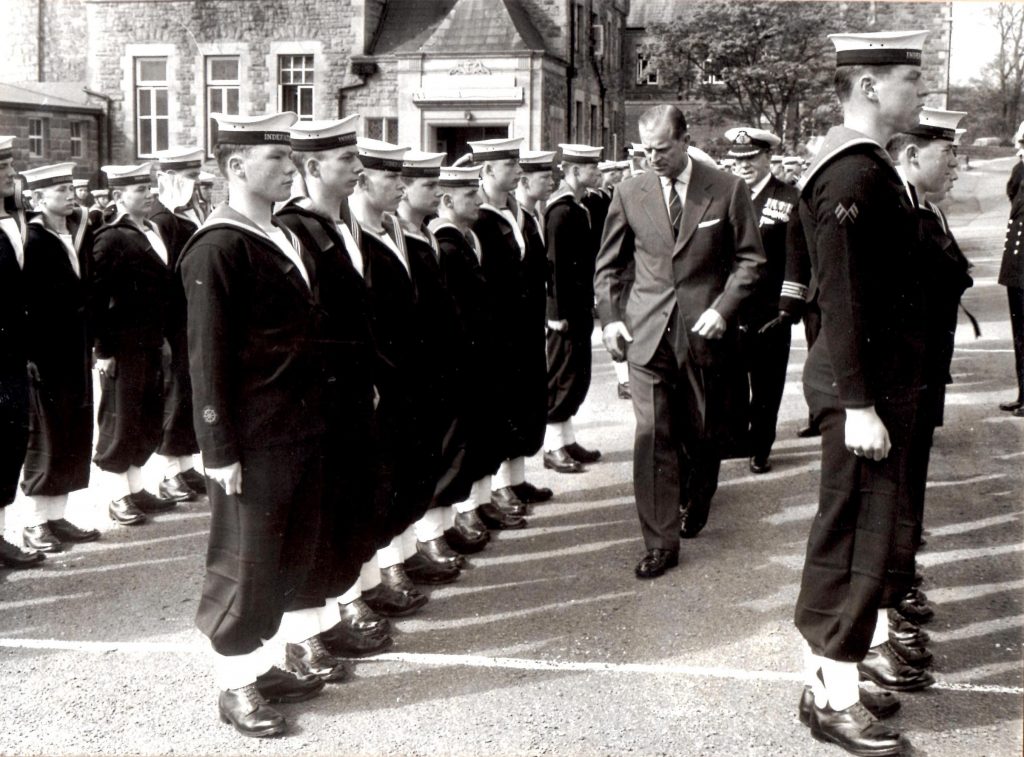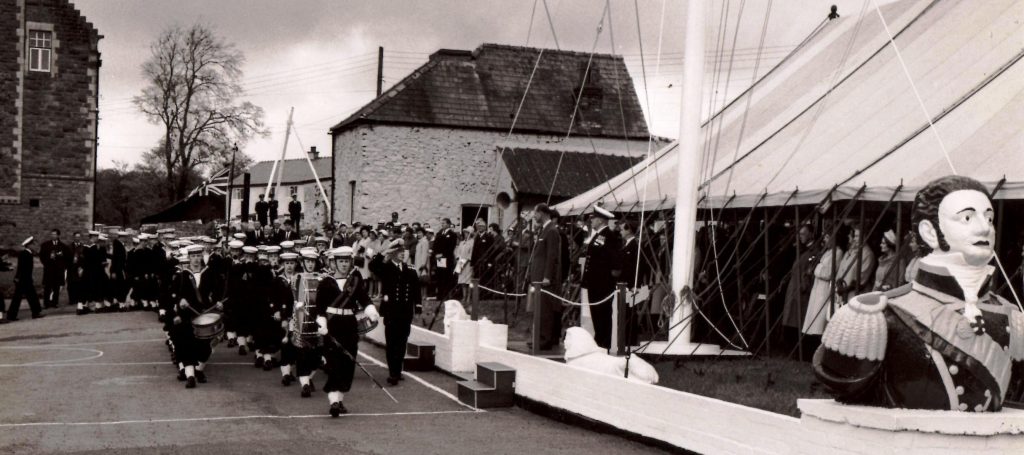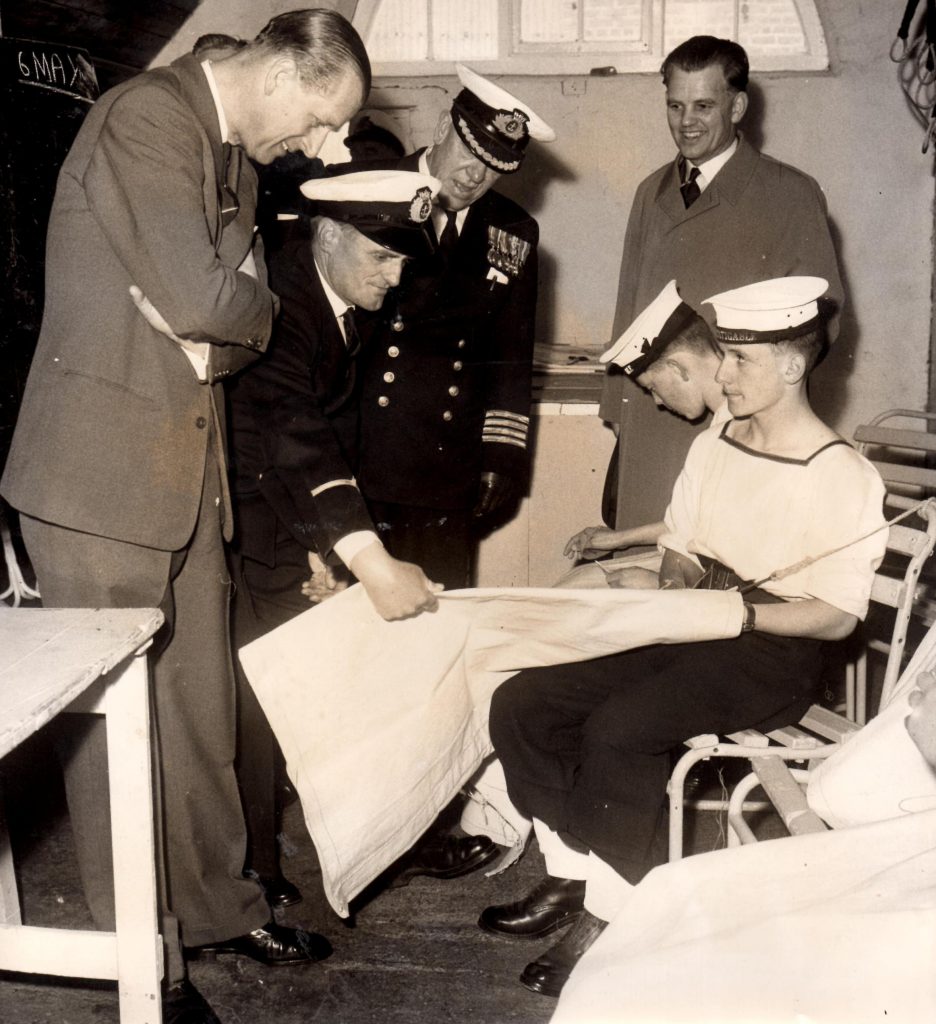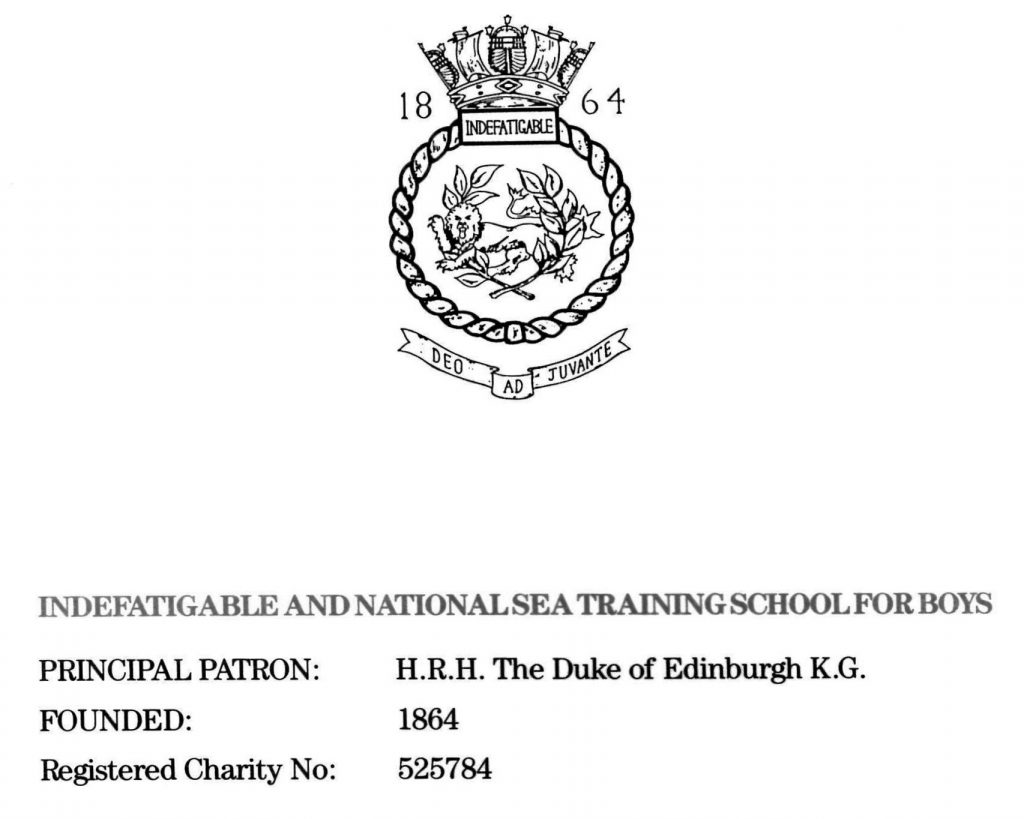 https://en.wikipedia.org/wiki/Prince_Philip,_Duke_of_Edinburgh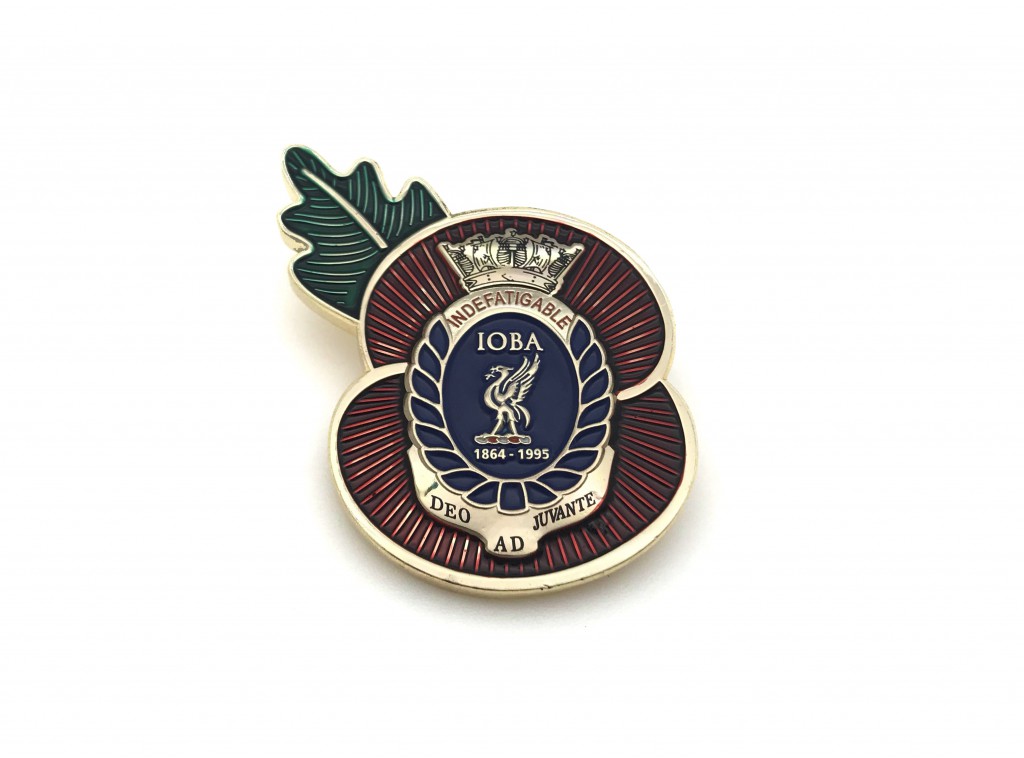 Indefatigable Old Boys Association (IOBA)
© www.indeoba.com 2021
OLD Indefatigable Memorial Bench at the National Memorial Arboretum (Alrewas, Staffordshire)

In 2019 the IOBA removed the old Indefatigable bench from the National Memorial Arboretum Alrewas, and placed it in the Memorial Garden at JSMTC Indefatigable (the Old School).
Names of those 'connected to the Indefatigable Ships and School' (who have passed away), may now have their names attached to the old bench (as on 2" brass plaques). Names so far included are, LT COL Simon Hall OBE, Spencer Bell 1958 (past IOBA Chairman) and now Mac McNeill 1941/42.
It has been agreed to include named plaques of past 'Indefatigable Connected' Old Boys & Staff at the following cost of £40:00 each, paid by the requester, to be coordinated through the IOBA Committee. <https://www.ts-indefatigable-oba.org/contact-us/>
If you would you like to purchase a named brass plaque please contact us <https://www.ts-indefatigable-oba.org/contact-us/>, once payment has been cleared, we will ensure named plaques will be attached to the Indefatigable Memorial Bench at JSMTC Indefatigable by the following IOBA Reunion.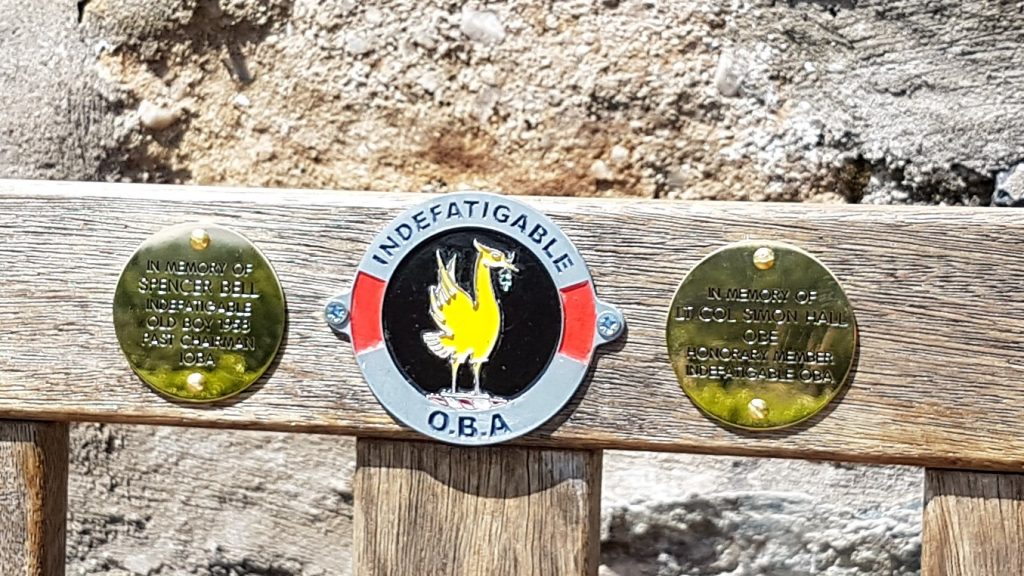 ---
NEW Indefatigable Memorial Bench at the National Memorial Arboretum (Alrewas, Staffordshire)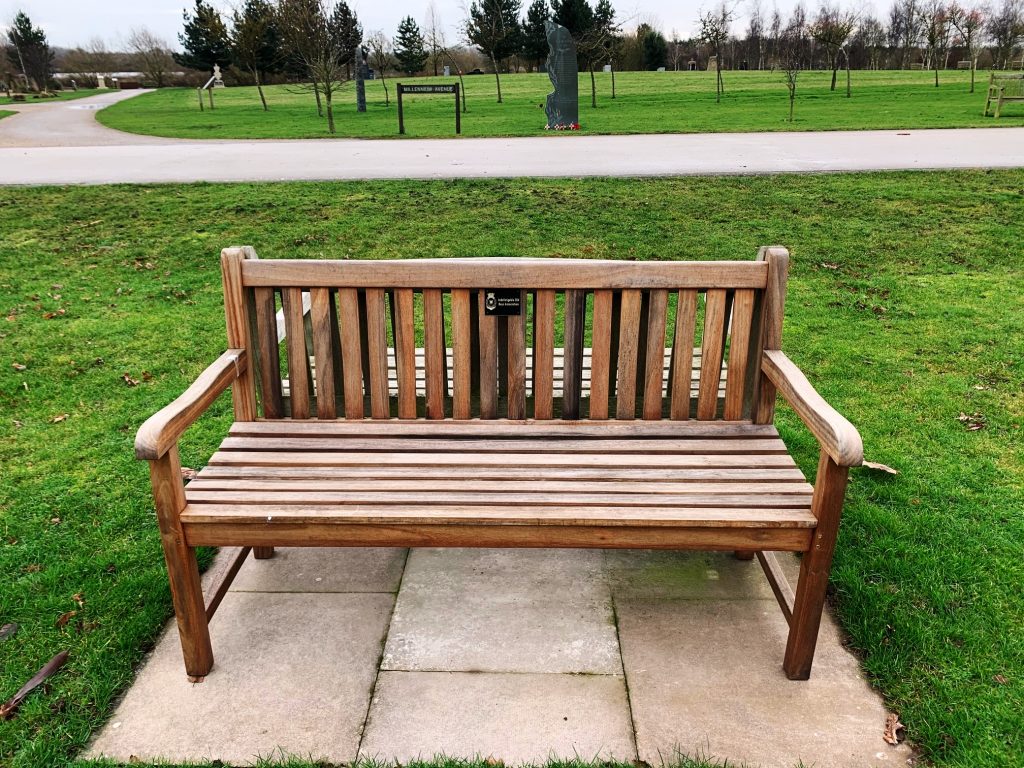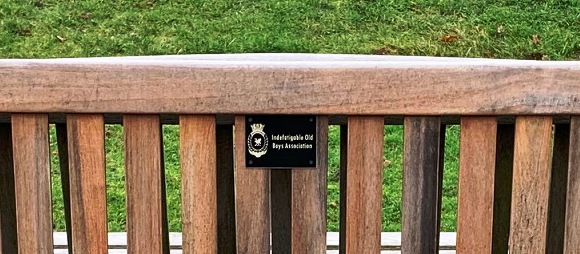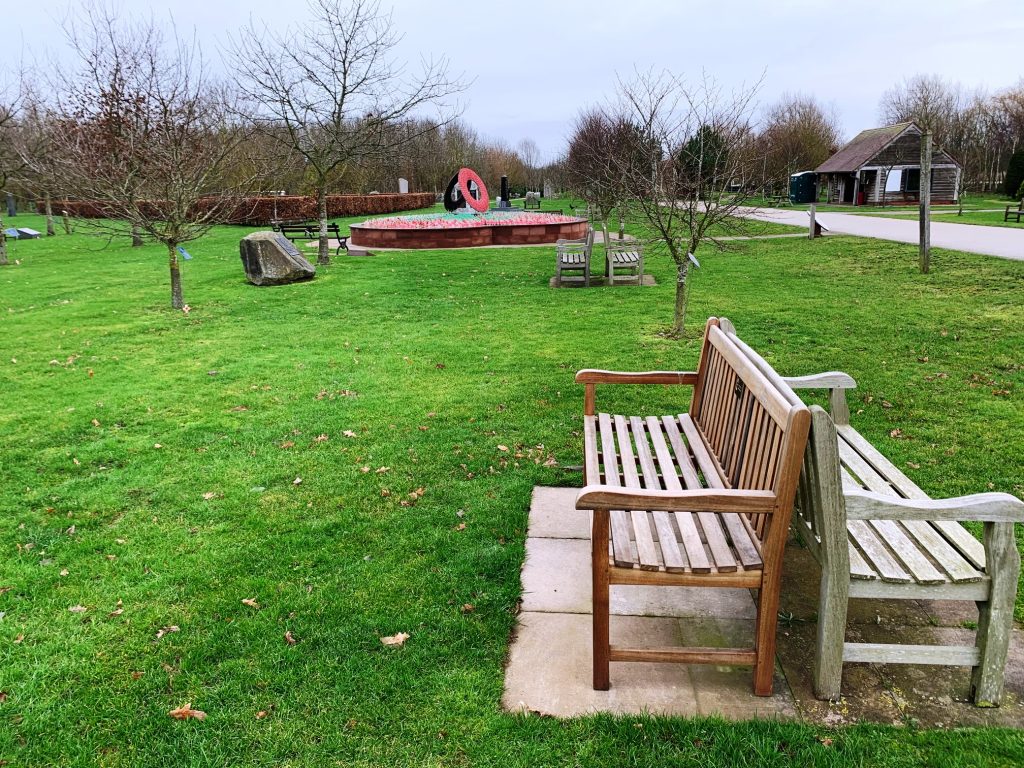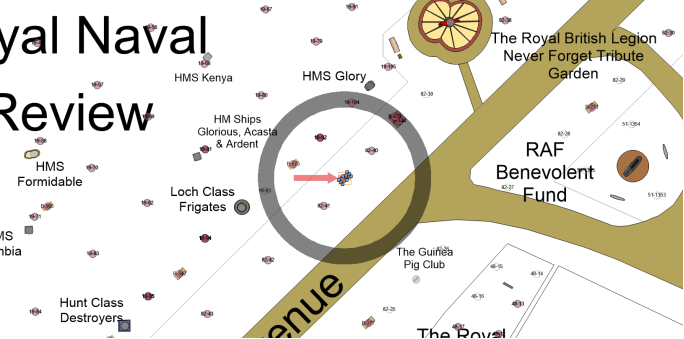 The replacement Indefatigable bench has been placed in the Navy Review area at the National Memorial Arboretum. Mapped location: Please note the bench's mapped location is not at any of the NMA kiosks in the remembrance centre at this time (Jan 2020). So to find the Indefatigable Bench, please ensure you have a copy of this map (attached) and or bench reference B343. B343 is the bench behind the Indefatigable, B343 has been here for a while so will be on the kiosk maps.
The National Memorial Arboretum is an evolving, maturing woodland landscape featuring 30,000 trees and a vast collection of memorials. The 150-acre site is a living, growing tribute to those who have served and continue to serve our country.
Other than the Indefatigable Memorial Bench, we have another memorial called the TS Indefatigable Memorial. The NMA team of volunteers are always happy to help visitors locate memorials and individual dedications in their grounds. You can also use the computer terminals in the Remembrance Centre to search for individual dedications and their locations. Memorial listing R-Z: TS Indefatigable Memorial <http://www.thenma.org.uk/whats-here/the-memorials/memorial-listing/>
Dedication Ceremony 26th April 2001 took place at the National Memorial Arboretum: In memory of the ships and men of the Merchant Service who were lost in the Second World War, the National Memorial Arboretum was established near the village of Alrewas in Shropshire and was dedicated in October of 1998. The Arboretum takes the form of 2,536 trees representing all British merchant ships and fishing vessels known to be lost in World War 11. Certain shipping companies have adopted specific avenues of trees, each one of which is marked with the name of a ship lost. In addition there are a variety of specific plaques, benches and other forms of memorial.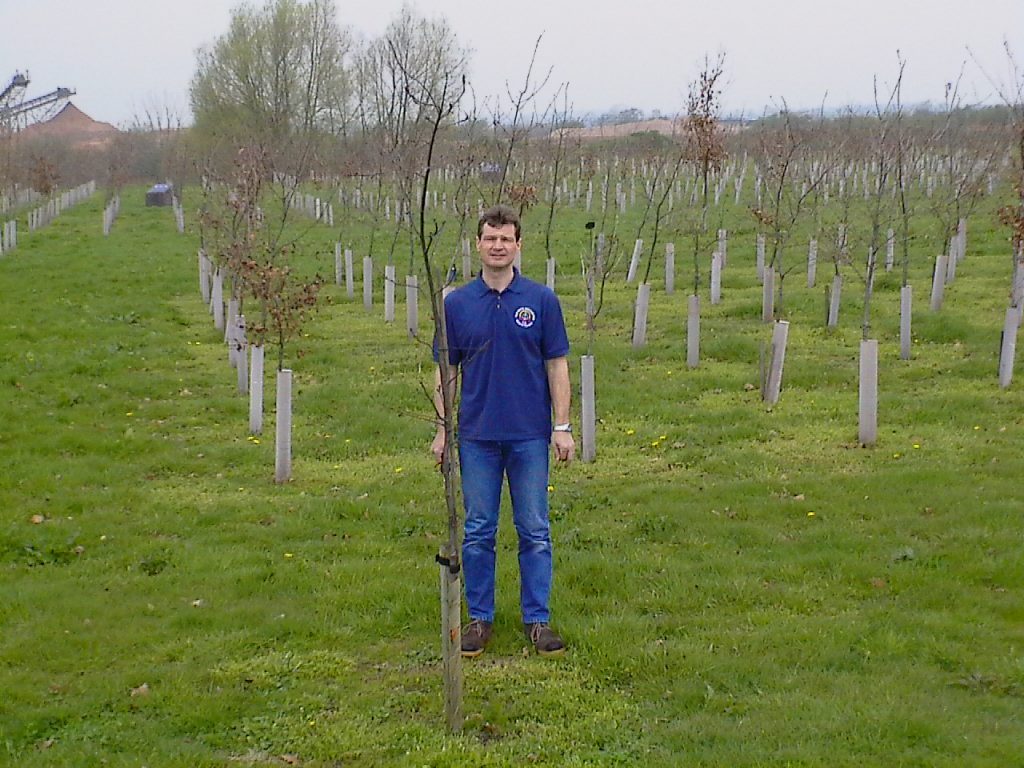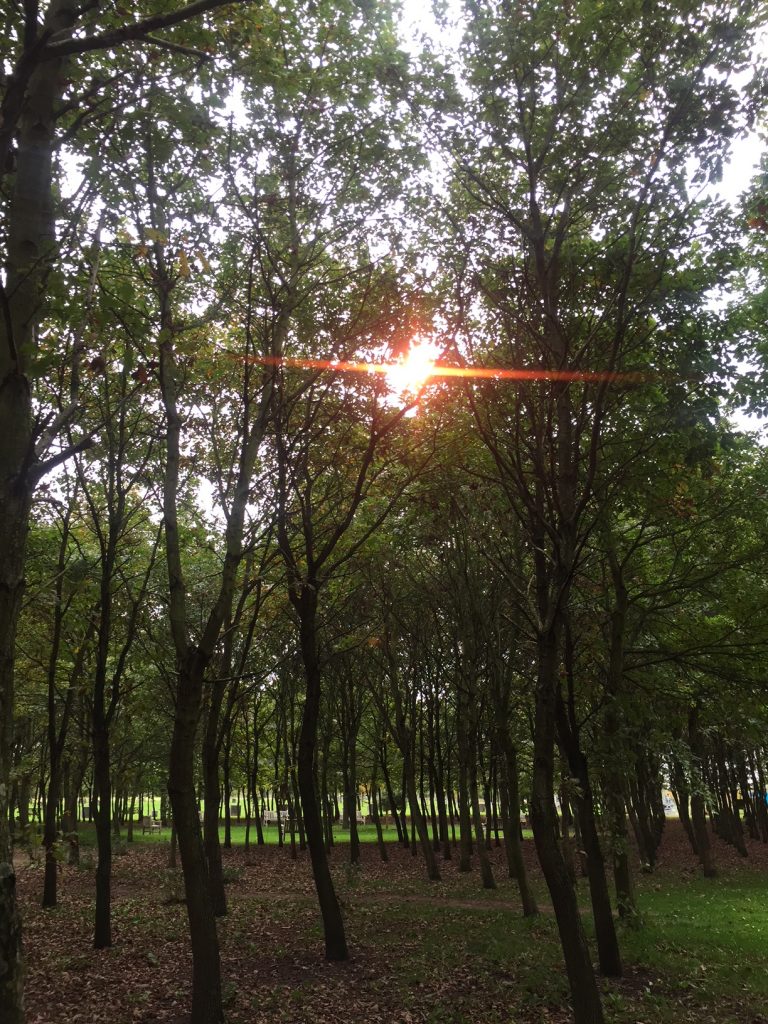 The purpose of that dedication service was to dedicate plaques and avenues of trees for six shipping companies, Union Castle Mail SS Co., Clan Line Steamers, Scottish Shire Line, Houston Line, Bullard King & Co. and King Line, and plaques in memory of former cadets and staff of five training establishments, H.M.S.Conway, H.M.S.Worcester, the Nautical CollegePangbourne, S.A.T.S.General Botha, T.S.Indefatigable and T.S.Mercury.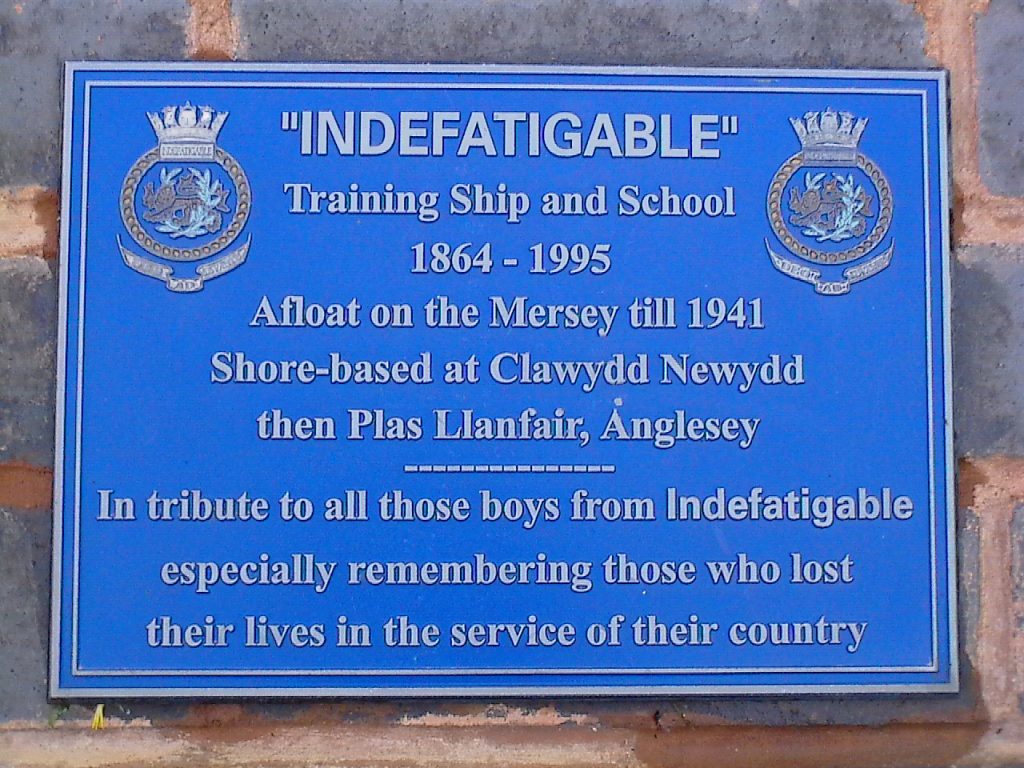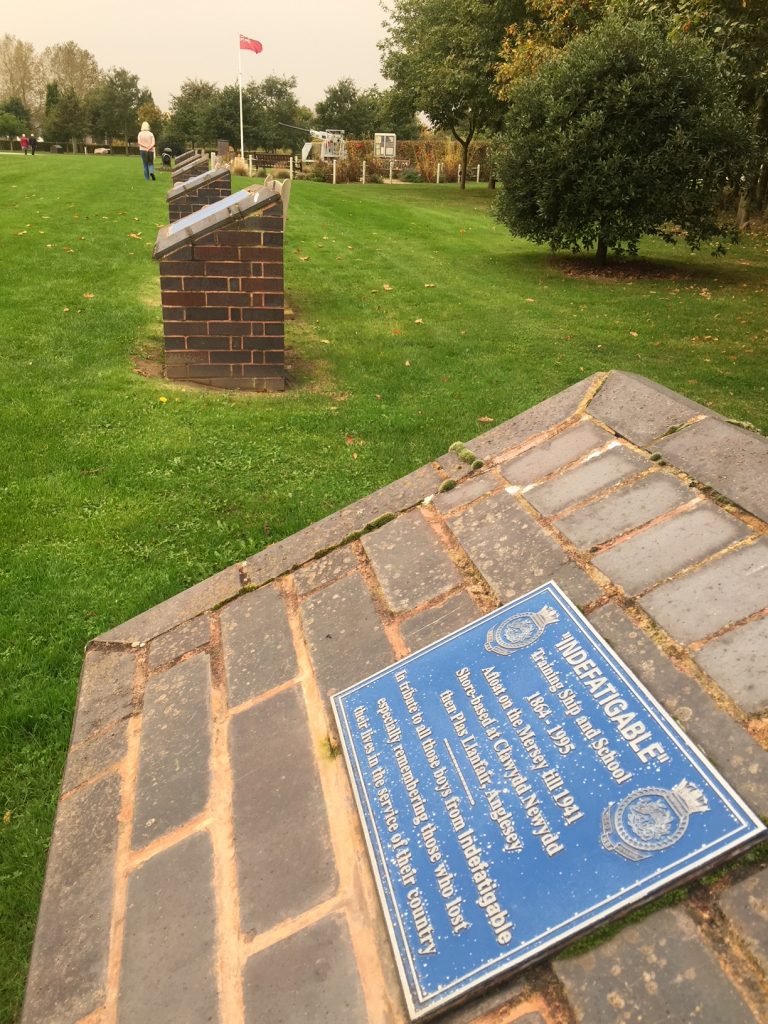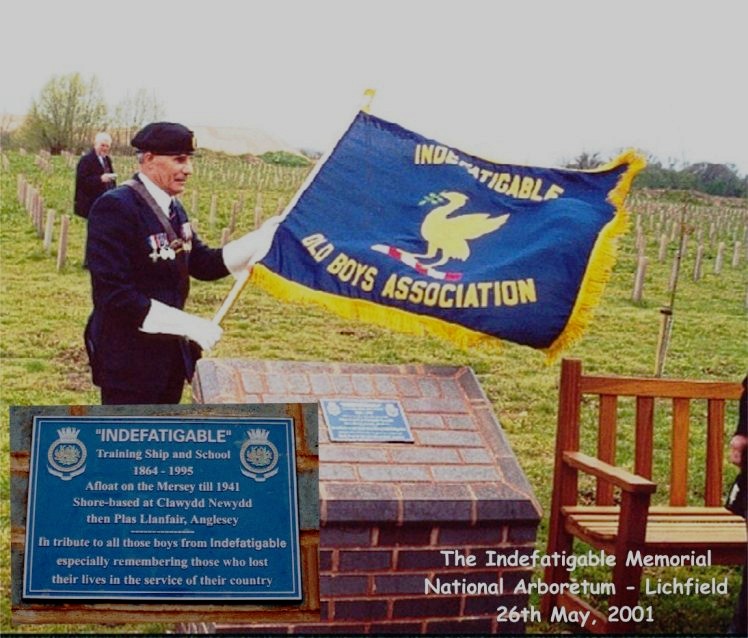 Indefatigable Old Boys Association (IOBA)
© www.indeoba.com 2021