Archive for September, 2020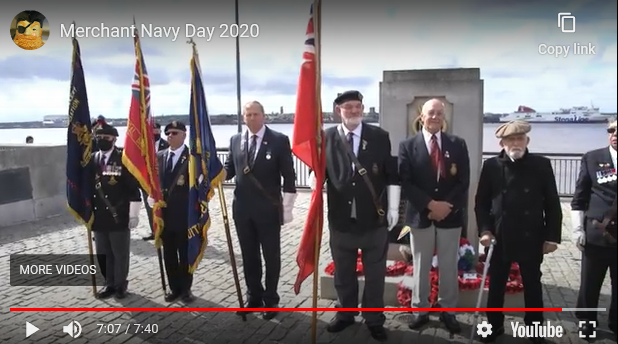 Our thanks go to all Indefatigable members attending on behalf of the IOBA on the day, 'Marc Hardman 1961' and 'Malcolm Williams 75/76' for their Standard Bearer duties, 'Russell Jones 55/56' and not least, 'Angie Williams' who laid the wreath on behalf of the IOBA.
A great effort by all, considering the circumstances being the COVID19 year!
Copyright Tim Brunsden
http://www.liverpoolshipsandsailors.com/
LIVERPOOL SHIPS AND SAILORS
MERCHANT NAVY DAY SUNDAY 6TH SEPTEMBER 2020;
A special service took place in Liverpool to mark Merchant Navy Day with a wreath-laying ceremony, where Indefatigable Old Boys were in attendance.
The annual event raises awareness of past, present and future Merchant Navy seafarers and also remembers the 36,000 men who died at sea during World War Two.
The public service took place in the grounds of Liverpool Parish Church in the City Centre at midday.
There was also a focus on seafarers role during the Covid-19 pandemic.
In attendance, John Wilson, CEO of the Liverpool Seafarers' Centre, spoke to the congregation about life onboard for mariners who have kept cargo moving in and out of the Port of Liverpool.
Civic dignitaries from across the City region, included the Lord Mayor of Liverpool Councillor Anna Rothery, along with current and retired seafarers (including IOBA members), as well as others who represent the work of the Merchant Navy today.
The Rector of Liverpool, the Reverend Canon Dr Crispin Pailing, who lead the service, said: "The last few months have been challenging for everyone, but essential supplies and much of the food in our shops, are there thanks to the work of the Merchant Navy."