Dear all,
It is with the greatest sadness that I have to announce the tragic death of Captain Harry Traynor, past IOBA Chairman who died at 05:45 on Saturday 27th June 2009.
I have personally known Captain Harry since 1986. Harry was one of the founder members of the IOBA and if I stand corrected our first Chairman until he stood down in 2000 (after some 17 years in the Chair!). I need not remind you of all that Captain Harry did for our Association (it's all in the book – 'The Inde' by Rev. Canon (Bob) Evans).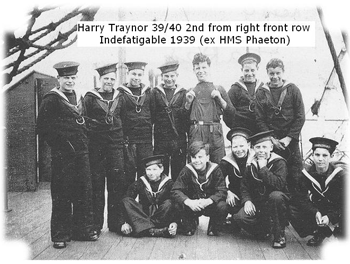 Joyce (Harry's Wife) rung last night to say that Harry had died. He was transferred to a hospice last week when they found that the cancer had returned with a vengeance. He requested to go home to die, where Joyce wanted him too so he went home on Thursday. He rapidly declined, they had a nurse to stay with them and he died peacefully on Saturday morning at 0545 hrs. Joyce confirmed that she was okay and had everyone there including her grand daughter. She was very tearful initially and could hardly speak but as there conversation went on she became stronger at the end. She was told that we would keep in touch and that we would write soon.
Colonel Bill O'Leary (IOB Chairman) and I will be sending our sincere condolences to Joyce and Captain Harry's family on behalf of you all, and the 'Indefatigable Old Boys Association' but, if you would like to send your own condolences please let me know and I will forward a postal address.
Pat Moran has left a message on my answer phone saying, "Joyce doesn't want much fuss regarding the funeral, preferring a quite ceremony at the local crematorium. Details to follow together with an invite."
'Friendships and memories of 'the Inde' will remain to the end'.
Steve Humphries: 75/76.
Indefatigable Old Boys Association: Secretary
Home tel no: (0044) 01628 850930
Mobile no: (0044) 07703 45 44 95