Archive for the 'Uncategorized' Category
---
Remembrance Sunday November 10th 2019
Have you got got your IOBA Poppy Badge ready for this year.

£11.50 (includes 50% donation to the Royal British Legion – RBL).
The cost of £11.50 includes UK postage. We are happy to post worldwide at £3.80 (Jan 2018).
50% donation (NOT LESS THAN £5.00 per badge sold) goes to the Royal British Legion (RBL) and is not diluted by any third party deductions.
Badges are made to a high specification from metal and enamels giving them a high deep red gloss finish. The green leaf points to 11am. They are approximately 40mm in overall size with the red poppy petal being about the same size as a 50 pence piece, the same size as the paper poppy. They have a brooch style safety fastening with the IOBA website address on the reverse.
They are not meant to take away the purpose of buying the paper poppy in November but being enamel they can be worn all year round as Remembrance is 24/7, 365, not just for one week of the year. The badge is in 3D relief so it sits proud of the poppy.
The Royal British Legion provides practical help, advice and support to the Armed Forces community all year round. We help serving members of the Armed Forces, ex-Service men and women, their carers and families.
WEAR YOUR BADGE WITH PRIDE, YOU EARNED THE RIGHT TO DO SO
Indefatigable Old Boys Association (IOBA)
© www.indeoba.com 2019/20
The Indefatigable Commemorative Coin/Medal
With donations being made to the Indefatigable Old Boys Association, this beautiful commemorative Coin/Medal celebrates those of us who served and went to the Indefatigable Training Ship & School between 1864 – 1995.  This antique brass or antique nickel-plated piece features a synopsis of the Training Ship service from an actual 1912 Indefatigable Bible on the obverse.
The reverse displays an intricate design that Captain Joe Earl (IOBA member) gave me an idea of from his own 'Indefatigable Medal' from 1957, where these medals were given out as prizes issued for the Top Class or as individual prizes such as Swimming, Seamanship on Prize Day. 
Available via the IOBA online shop (after the 2018 IOBA Reunion), you will be helping to raise funds and awareness of the IOBA which we are privileged to be supporting.
Specifications:
Cost: £16:00 each Coin & Presentation Box + P&P.
Diameter: 45mm x45mm.

Plating & Finish: Antique Brass or Antique Nickel (on Zinc alloy with soft enamel).
Edition Limit: For now there are only 250 made.
x125 Antique Brass 'bevelled edge' coins with navy ensign.
x125 Antique Nickel 'bevelled edge' coins with navy ensign.
THE INDEFATIGABLE OLD BOYS ASSOCIATION CONSTITUTION – 2018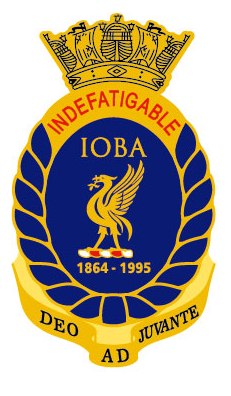 Link: 20180415-IOBA Constitution Review-Final 2018
Richard Lawson (85/88)
Indefatigable Old Boys Association (IOBA): General Secretary
© www.indeoba.com 2018
INDEFATIGABLE 1864 – 1995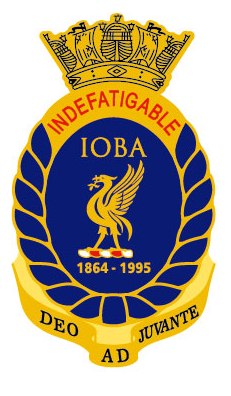 OLD BOYS ASSOCIATION 1983 – 2018
General Data Protection Regulations – Indefatigable Old Boy's Association
The law relating to Data Protection changed on 25th May 2018 with the introduction of the General Data Protection Regulations (GDPR.  The privacy notice attached summarises the ways in which the Indefatigable Old Boys Association (IOBA) manage the information that we hold about you, how we use it and your rights in relation to it.
Chick on link below to upload document;
20180529-IOBA GDPR Notice-Final
Kind Regards,
IOBA Committee
Indefatigable Old Boys Association (IOBA)